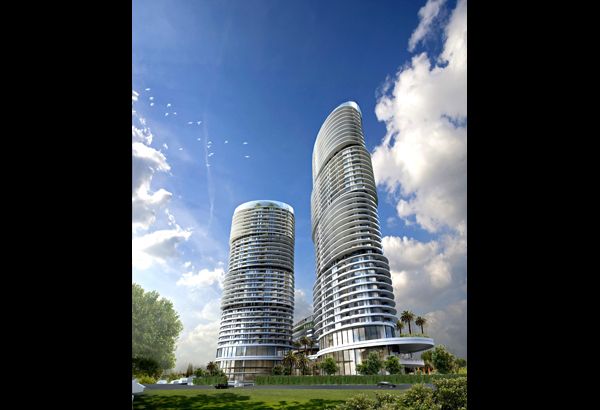 MANILA, Philippines – As Cebu's only residential condominium development on a hilltop, 128 Nivel Hills Residences offers not just upscale living but also a stunning view of the southern metropolis.
With its "shifting ovals" design, the first project of Diamond Hiland Inc. of the Lhuillier and Yeung families promises to give Cebu a residential project to be proud of.
"We are selling the view, giving residents the best experience in their units," Diamond Hiland general manager Nestor Omar Arce-Ignacio said in an interview.
"The oval shape is geared towards giving a unit the widest view possible, not just one plane that limits the view," Ignacio said. The cylindrical oval shape boasts of a 360-degree unobstructed view of the surrounding Cebu landscape and coast.
128 Nivel Hills Residences sits on a 8,470-square meter (sqm) lot atop the rolling terrain along Cebu Veterans Avenue, Nivel Hills in Lahug.
Residents can enjoy the mountain ranges of Mt. Langga and Mt. Cabalasan in the northwest, the City Lights Garden towers in the northeast, Mandaue City in the far east, and the Mactan Channel and Mactan Island in the southeast.
"The project, being located outside the city proper, is spared from the undesirable hustle and bustle of city living, although it can be reached in just a few minutes ride via the main access road of Cebu Veterans Avenue," Ignacio said.
He said the award-winning Australian group Crone Partners came up with the "shifting ovals" design after several workshops to ensure that the project has a differentiating factor.
Diamond Hiland is offering a total of 557 units, 237 of which are in the East Tower, 306 are in the West Tower and 14 are called garden apartments.
"It's about fulfilling a vision for
Cebu. For Ambassador Philippe Lhuillier, Cebu must have something totally different that is international in terms of quality," Ignacio said, adding that there is no other condominium project designed like 128 Nivel Hills Residences even in Metro Manila.
128 Nivel Hills Residences will have a niche retail component reflecting the modern lifestyle of its residents and investors.
Amenities include a ballroom-like function room, a generous lobby, sun room, mini-theater, toddlers' play area, business center, study room, swimming pool and pool bar, and residents' lounge. Residents of garden apartments will enjoy access to the exclusive 10th floor amenity area that includes a swimming pool.
"Quality amenities are also made available even for special guests and visitors embodying the true Cebuano hospitality," Diamond Hiland said.
"The direction is to pamper the buyers," Ignacio said.
Local executives, the new rich, young professionals, families of expatriates and businessmen from Manila are seen as future residents and investors in 128 Nivel Hills Residences, Ignacio said.
Given the condominium project's positioning as an upscale project, Diamond Hiland shied away from small cut units.
One bedroom units occupy 65-70 sqm, followed by two-bedroom units at 106-130 sqm, three-bedroom units at 170-200 sqm, the posh garden apartments at 250-300 sqm and four-bedroom units at 380-396 sqm.
"We will market the units at P130,000 per sqm to as high as P150,000 per sqm. What's surprising in Cebu is the price is toe-to-toe with Metro Manila," Ignacio said.
Ignacio said Diamond Hiland tapped interior designer Manny Samson to pay close attention to details.
East tower units will be delivered in the fourth quarter while West tower residents will be able to move in by late-2017.